About Us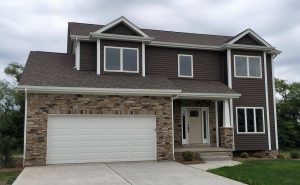 WE DON'T JUST BUILD HOUSES—WE BUILD HOMES
THE HALLMARK AND SUCCESS OF OUR CONTINUOUS HOMEBUILDING FOR OVER 60 YEARS HAS BEEN BASED ON THE UNCOMMON CAPACITY TO RECOGNIZE AND TRANSFORM A CLIENTS HOMEBUILDING NEEDS AND LIFESTYLE INTO A FUNCTIONAL, INVITING AND COMFORTABLE NEW HOME BUILT BY RICCIUTI ENTERPRISE, INC.
NO MATTER THE SCALE OF THE PROJECT, WHETHER REMODELING, HOME IMPROVEMENTS OR A NEW HOME, THE SAME OPERATING PRINCIPLES ARE APPLIED TO EACH AND EVERY JOB FOR THE SATISFACTION OF THE CUSTOMER.
RICCIUTI ENTERPRISE CONTINUES TO INNOVATE AND BUILD ON ITS SOLID FOUNDATION UNDER THE LEADERSHIP OF DOMENIC RICCIUTI, WITH HIS MANY YEARS OF LAND DEVELOPMENT AND BUILDING EXPERIENCE WHICH PROVIDES THE CUSTOMER SUPERB VALUE AND MOST IMPORTANTLY, PEACE OF MIND AND CONFIDENCE THAT THE JOB WILL BE DONE RIGHT.
BUT DON'T TAKE OUR WORD FOR IT, JUST ASK ANY ONE OF A LEGION OF HIGHLY SATISFIED CUSTOMERS, SOME OF WHOM HAVE BUILT TWO OR MORE HOMES, RECOMMENDED RICCIUTI ENTERISE TO THEIR FRIENDS AND FAMILY, WHICH AFTER ALL, IS THE MOST IMPORTANT REFERRAL COMPLIMENT OF ALL.